YPTC Named A Best Accounting Firm to Work For in 2019!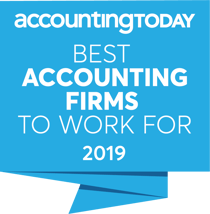 Your Part-Time Controller, LLC is pleased to announce that we have been awarded the distinct honor of making Accounting Today's list of Best Firms to Work For in 2019! According to AccountingToday, this ranking, in its thirteenth year of publication, includes an anonymous staff survey that comprises 75% of each Best Firm's score. The final 25% is based upon an in-depth review of each firm's policies and practices.
YPTC is proud to be honored as a Top Accounting Firm to Work For on the national level. We would like to thank our staff members for their efforts and AccountingToday for this great honor!
Check out AccountingToday's full 2019 list here.
Want to learn more about YPTC? Contact Us!
Interested in working for YPTC? View Open Positions!